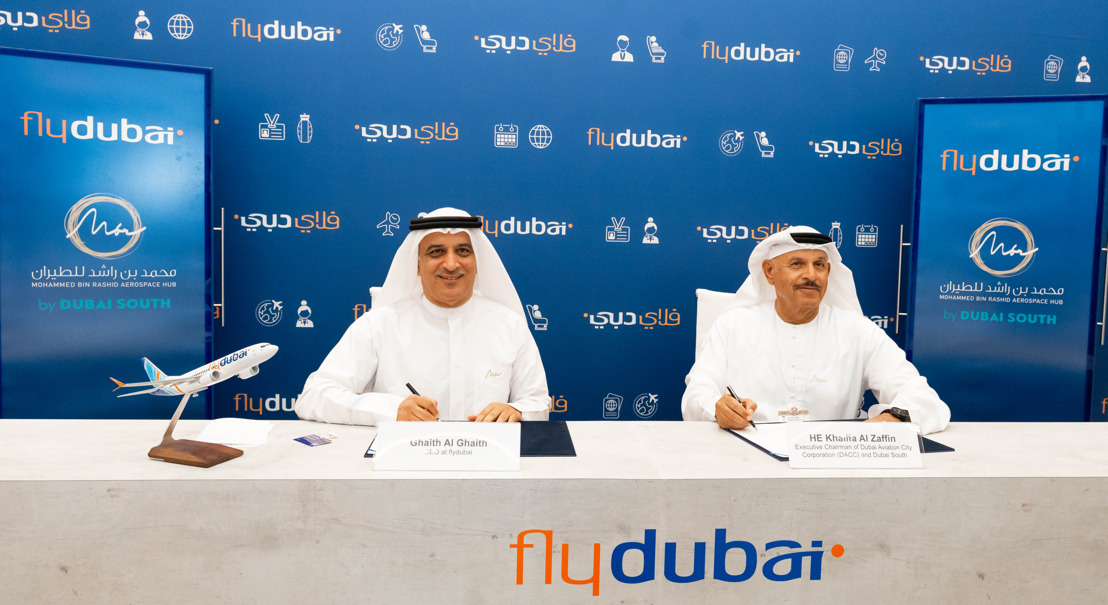 flydubai announces plans for USD 190 million MRO facility in Dubai South
The Dubai-based carrier signs an agreement with the Mohammed bin Rashid Aerospace Hub (MBRAH) for its first purpose-built Maintenance, Repair, and Overhaul (MRO) facility by 2026

The milestone announcement reflects the airline's long-term commitment to further enhancing its in-house capability, which will support its growing fleet
Dubai, United Arab Emirates, 15 November 2023: flydubai announced today, at a press conference held during the Dubai Airshow, its plans for a purpose-built USD 190 million MRO facility in Dubai South by 2026.
The signing ceremony with the Mohammed bin Rashid Aerospace Hub (MBRAH) was attended by His Excellency Khalifa Al Zaffin, Executive Chairman of Dubai Aviation City Corporation and Dubai South; Tahnoon Saif, CEO of MBRAH; and Ghaith Al Ghaith, CEO of flydubai.
The construction of the new hangar and workshop will commence next year and is expected to conclude by the last quarter of 2026.
Commenting on the new announcement, His Highness Sheikh Ahmed bin Saeed Al Maktoum, Chairman of flydubai, said: "I am proud to announce the plans for flydubai's state-of-the-art MRO facility in Dubai South. This milestone reaffirms our commitment to operational excellence, right here in Dubai South's dynamic ecosystem. This will bring flydubai greater control over its maintenance requirements as it continues to grow its fleet and capabilities with a firm focus on the future."
His Excellency Khalifa Al Zaffin, CEO of Dubai Aviation City Cooperation and Dubai South, said: "flydubai's new facility in Dubai South reflects our commitment to enhancing the ecosystem that contributes to the growth and sustainability of the aviation industry. This partnership reaffirms Dubai's position as a global aviation hub and reinforces our shared vision of providing world-class aviation services to our partners."
Ghaith Al Ghaith, Chief Executive Officer at flydubai, said: "Dubai has emerged as a thriving aviation hub that fosters connectivity, innovation, growth and setting benchmarks for the global aviation industry. The spirit of Dubai is in our DNA and we are proud to announce today the plans for our MRO facility which represents a new chapter in our journey. At flydubai, we continue to invest in our people and technologies and build solid foundations to enable further growth as part of our role in supporting Dubai's economic and aviation vision."
Mick Hills, Chief Operating Officer at flydubai, commented: "When it is up and running in 2026, the MRO facility on Dubai South will bring us significant reductions in operational costs. Having our own in-country MRO facility will ensure a quicker turnaround of our fleet maintenance while adhering to the highest quality standards. This increased level of control will result in reduced downtime as maintenance tasks can be efficiently planned and executed, minimising any disruption to our flight schedules in the future and enhancing overall operational reliability."
flydubai has been further expanding its in-house capabilities over the years and in 2022 received its CAR-145 Base Maintenance Approval from the General Civil Aviation Authority (GCAA). This has enabled the airline to perform C Checks and Entry-into-Service for its fleet of Boeing 737 MAX aircraft; bringing the airline added operational and cost efficiencies.
The carrier has built a team of 455 skilled engineers working in Line Maintenance, Technical Services, Materials and Workshops who are responsible for ensuring the airworthiness and safety of our growing fleet. More than 230 engineers will join flydubai's growing workforce over the next 12 months. This ongoing recruitment drive will ensure the airline is well-positioned for the opening of its MRO facility by 2026.
flydubai currently operates a young and efficient fleet of 80 Boeing 737 aircraft and will take delivery of more than 150 additional aircraft by 2030.
MBRAH offers global aerospace players investment opportunities and is a free-zone destination for the world's leading airlines, private jet companies, MROs, and associated industries. Located in and developed by Dubai South, MBRAH is also home to maintenance centres and training and education campuses. It seeks to strengthen engineering industries to foster the emirate's vision of becoming a leading aviation hub.