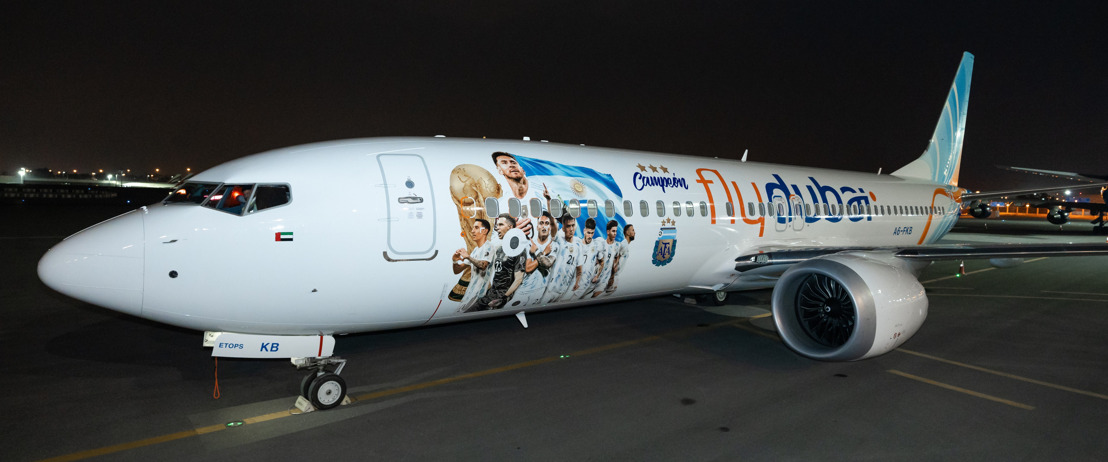 flydubai concludes a month of Match Day Shuttle service operations at DWC
• The Dubai-based carrier operated 1,290 flights between Dubai World Central (DWC) and Doha International Airport (DIA) from 21 November until 19 December 2022 • The carrier enabled more than 130,000 football fans, representing 171 nationalities, to travel conveniently to Doha
Dubai, United Arab Emirates, 22 December 2022: Dubai-based flydubai announced today that it has enabled more than 130,000 football fans to travel conveniently to take part in the biggest football tournament in the world. The carrier has operated 1,290 flights between Dubai World Central (DWC) and Doha International Airport (DIA) between 21 November and 19 December.
Passengers from 171 countries travelled conveniently to Doha on these Match Day Shuttle flights to cheer on their favourite teams. The top 10 nationalities in terms of the number of passengers were the United Kingdom, India, United Arab Emirates, France, Argentina, United States, Morocco, Jordan, Canada and Brazil who made up to 60% of the overall number of passengers travelling on these shuttle flights.
Commenting on the Match Day Shuttle flights, Ghaith Al Ghaith, Chief Executive Officer at flydubai, said: "We are very pleased that the special Match Day Shuttle service operations to Doha were a great success thanks to the support of the authorities in Qatar and all the stakeholders in Dubai. These shuttle flights enabled more football fans to travel and enjoy the excitement of the tournament with ease and convenience. Never before has there been up to 30 daily return flights between two countries in the region and this shows the high level of commitment, efficiency and collaborative approach required to successfully deliver this task."
flydubai operated up to 30 daily Match Day Shuttle return flights between DWC and DIA, with a shuttle flight departing every 30 minutes during peak travel periods of the day. These flights were operated by seven of the carrier's Boeing 737 aircraft which were temporarily deployed at DWC for the duration of the tournament. As the regional airline partner, flydubai unveiled a special football-themed livery on two of its new Boeing 737 MAX aircraft, celebrating the win of the Argentina national football team.
"It has been an exciting month and we are proud to have contributed to the success of this exceptional world cup in Qatar. We would like to thank every passenger who chose to flydubai as well as everyone who worked hard to make this a reality", added Al Ghaith.
---