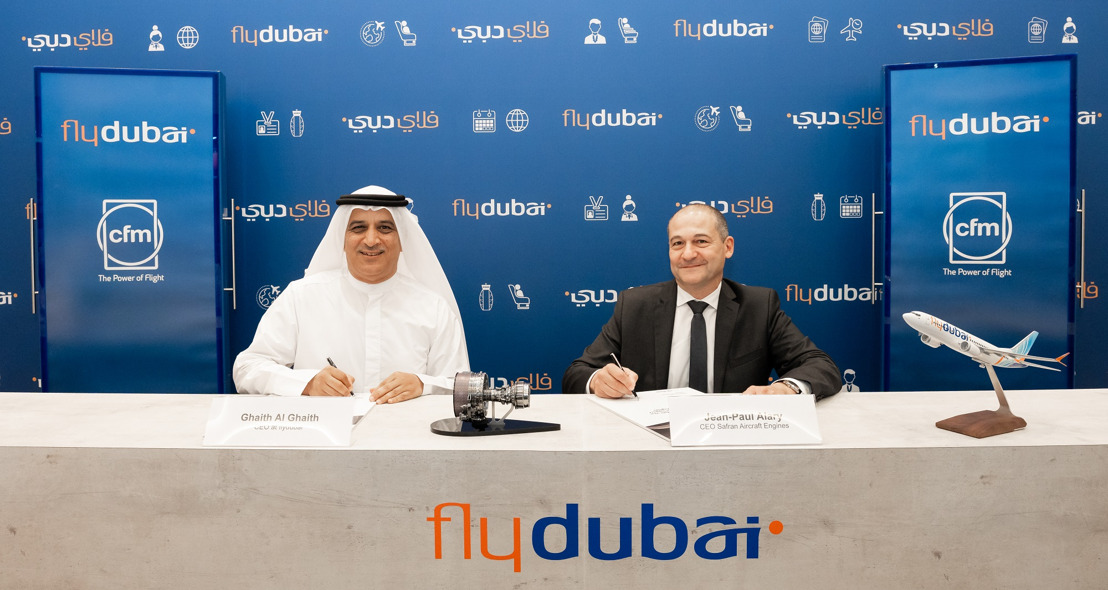 flydubai signs services agreement for CFM LEAP-1B engines
The agreement covers 111 LEAP-1B-powered Boeing 737 MAX fleet
Dubai, United Arab Emirates, 14 November 2023: flydubai, the Dubai-based carrier, and CFM International today announced a multi-year services agreement to cover 222 LEAP-1B engines for the airline's fleet of Boeing 737-8/-9 (in service and on order). The agreement also covers spare engines.
flydubai currently operates an efficient fleet-type of 80 Boeing 737 aircraft and includes: 30 Next-Generation Boeing 737-800, 47 Boeing 737 MAX 8 and 03 Boeing 737 MAX 9 aircraft.
"Our LEAP-powered aircraft have provided our airline with reliability and durability that contributes to the success and efficiency of fleet management and our operations," said Ghaith Al Ghaith, Chief Executive Officer at flydubai. "Our new service agreement with CFM and the existing close relationship we have with the engine supplier will support our growth plans as we take delivery of more than 130 aircraft over the next few years."
"This agreement with flydubai will enable continued growth for the airline as it expands on our longstanding partnership," said Gaël Méheust, president & CEO of CFM International. "With the more fuel-efficient LEAP engine under wing, flydubai will be able to continue to benefit from the reduced emissions across its young and efficient fleet.
The LEAP engine family has the fastest accumulation of flight hours in commercial aviation history, amassing more than 40 million engine flight hours and 18 million flight cycles. Since entering service, the LEAP-1B engine has accumulated more than 14 million flight hours and 5.6 million cycles.
The advanced CFM LEAP engine family provides 15 to 20% better fuel consumption and lower CO2 emissions, as well as a significant improvement in noise compared to previous generation engines. Since its entry into service in 2016, the LEAP engine allowed our customers to save more than 28 million tons of CO2*.
*Compared to same flights powered by CFM56 engines
---
About CFM International
A 50/50 joint venture between GE Aerospace and Safran Aircraft Engines, CFM International has redefined international cooperation and helped change the course of commercial aviation since its founding in 1974. Today, CFM is the world's leading supplier of commercial aircraft engines with a product line that sets the industry standard for efficiency, reliability, durability, and optimized cost of ownership. CFM International produces the LEAP family of engines and supports LEAP and CFM56 fleets for operators worldwide. www.cfmaeroengines.com