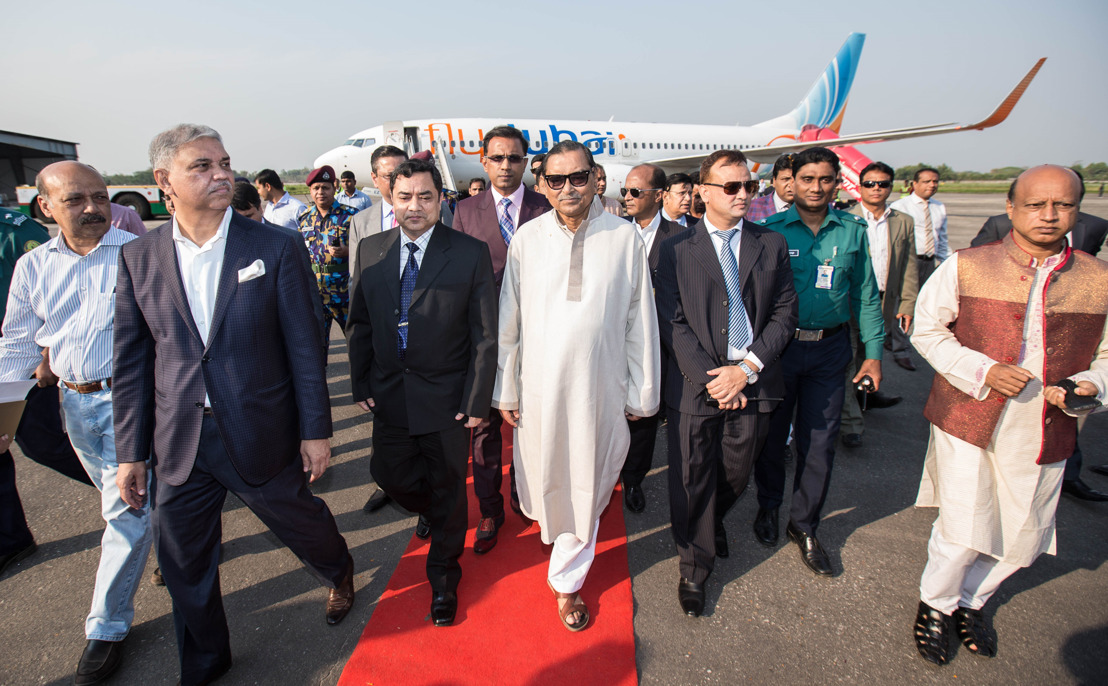 Sylhet welcomes flydubai
City becomes flydubai's third destination in Bangladesh
Wednesday, March 15, 2017 — Dubai-based flydubai's inaugural flight to Sylhet landed today and was greeted by a traditional water cannon salute.
Upon arrival, a flydubai delegation led by Sudhir Sreedharan, Senior Vice President Commercial for GCC, Subcontinent and Africa, was met by H.E. Rashed Khan Menon, Minister of Civil Aviation and Tourism, along with local officials from the Ministry of Finance, Ministry of Civil Aviation and Tourism, the Civil Aviation Authority and local members of Parliament. A traditional ceremony took place as the delegation disembarked the aircraft.
The flight marks the start of a four times weekly direct service between Dubai and flydubai's third destination in Bangladesh, which will increase to six flights a week from 16 May 2017. The operation to Sylhet Osmani International Airport is in partnership with Bangladesh carrier Regent Airways.
Speaking at a press conference held at the airport, Sudhir Sreedharan said: "We would like to take this opportunity to thank the Bangladeshi authorities for their support. We began operations to Dhaka and Chittagong in 2011 and have seen a strong demand for flights since. We are confident that our passengers from Sylhet will benefit from our direct and convenient flights to Dubai and beyond, via Dubai's efficient aviation hub connecting over 200 destinations worldwide."
"We thank Regent Airways for their cooperation, and we look forward to the start of this partnership," he added.
Since it began flights to Bangladesh, flydubai has carried more than 1.5 million passengers between the two countries. The new service will see flydubai provide up to 27 flights a week to Bangladesh.
Flights can be booked from flydubai's website (flydubai.com), its Customer Centre (+971) 600 54 44 45, flydubai Travel Shops or through travel partners. Further information and details of the carrier's car rental and travel insurance services can also be found on flydubai.com.